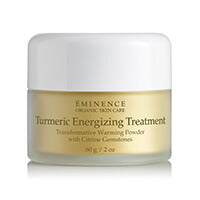 PRE-ORDER ONLY. AVAILABLE SEPT 1ST
Formulated with turmeric, citrine gemstones and zeolite, this spicy golden powder is as stimulating as it appears. As you slowly add water, activate your treatment into a fluffy mousse bursting with energy. Embrace the warm, exfoliating sensation and reveal silky, luminous skin.

Citrine: The stone of light and happiness. This little piece of sunshine is used to turn negative energy into positive, inspire creativity and allow productivity to flow abundantly.